For the Students of West Bengal
Online Preparation with WBJEE Coaching in Kolkata
Now, the students of West Bengal can join our online preparation courses prepared for WBJEE in Kolkata.
IG Career Institute is among the leader that offers WBJEE coaching facility at affordable cost in West Bengal.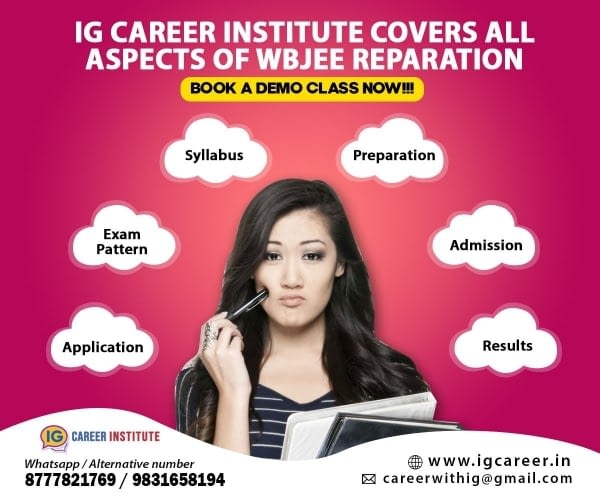 What is WBJEE?
West Bengal Joint Entrance Examination is popularly known as the WBJEE among the masses. This test is conducted by the West Bengal Joint Entrance Examination Board, controlled by the State Government. Passing this test paved the way to get admission to various government and private engineering colleges.
Students can appear in the WBJEE examination only after completing their 12th grade with Pure Science that consists of Physics, Chemistry, and Mathematics. Almost 300,000 students appear in this test, each year. Hence, competition is quite high. Students need to solve 155 questions within 4 hours in the WBJEE test.
WBJEE Coaching Fees in Kolkata
WBJEE Main for Class IX and X
Twice a week class for Physics, Chemistry, and Math, each;
Get 6 mock tests per year on each subject;
Free, 5 months Spoken English mandatory Classes, twice a week.
WBJEE Main for Class XI and XII
Thrice a week classes for Physics Chemistry, and Math, each;
Gain 12 Mock tests on each subject per year;
Spoken English free Language Classes twice a week for 5 months.
Reasons to Join Our Classes
There are numerous reasons that we can show you in favor of joining our WBJEE preparation classes, online in Kolkata. Let's check some of them here.
Special Preparation Classes for WBJEE to CBSE, ICSE, ISC, IB, and IGCSE Students in Kolkata
IG Career Institute also conducts special preparation classes for WBJEE in Kolkata to different educational boards and authorities. These boards are:-
CBSE (Central Board of Secondary Education)
ICSE (Indian Certificate of Secondary Education)
ISC (Indian School Certificate)
IGCSE (International General Certificate of Secondary Education)
IB (International Baccalaureate)
Neet courses are administered to the pupils from class VI to XII. These involve subjects of Physics, Chemistry, Mathematics, and Biology. There are also separate Spoken English classes if anyone wishes to join.
Charges for WBJEE Courses for VI, VII, IX, X, XI, and XII
WBJEE Training for CBSE (Central Board of Secondary Education) Students
| Class | Subjects | Numbers of Classes in a Week | Course Fees (Per Month) |
| --- | --- | --- | --- |
| VI to VII | Physics / Chemistry / Biology / Mathematics | 2 Days Classes in a Week | ₹1000/- |
| IX to X | Physics / Chemistry / Biology / Mathematics | 2 Days Classes in a Week | ₹1200/- |
WBJEE Classes for ISC (Indian School Certificate) Students
| Class | Subjects | Numbers of Classes in a Week | Course Fees (Per Month) |
| --- | --- | --- | --- |
| XI to XII | Physics / Chemistry / Biology / Mathematics | 2 Days Classes in a Week | ₹1200/- |
WBJEE Classes for IGCSE (International General Certificate of Secondary Education), and IB (International Baccalaureate) Students
| Class | Subjects | Numbers of Classes in a Week | Course Fees (Per Month) |
| --- | --- | --- | --- |
| VI to XII | Physics / Chemistry / Biology / Mathematics | 2 Days Classes in a Week | ₹2000/- |