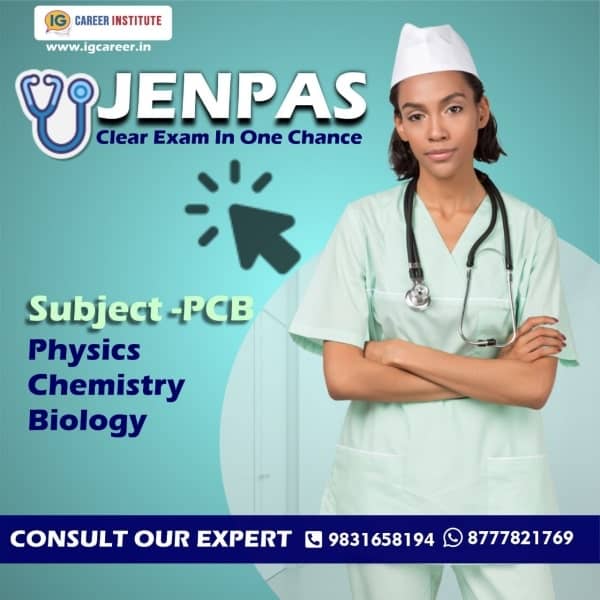 Best JENPAS Coaching Courses in Kolkata
Join the best JENPAS coaching classes in Kolkata, West Bengal, India. IG Career Institute is offering JENPAS courses for all students. We have Offline classes going on in Khardah, Sodepur. If you are a Nursing career aspirant, feel free to contact us for any information.
Worried about JENPAS Preparation?
Are you worried about JENPAS preparation in a very short period? Don't worry, we've put up a thorough very effective course for the JENPAS UG examination in Kolata to help applicants prepare for the test. The exam will be taken on three different subjects – Physics, Chemistry, and Biology.
What is JENPAS?
JENPAS (Joint Admission Test for Nursing, Paramedical, and Allied Sciences Undergraduate Courses) is a state-level medical/nursing entrance test. WBJEEB or the West Bengal Joint Entrance Examinations Board administers the WBJEE JENPAS UG (JENPAUH) test.
It is an entrance test for admission to colleges in West Bengal for the following Medical, paramedical, and related scientific programs Studies:-
BSc Nursing
BMLT (Bachelor of Medical Laboratory Technology)
BPT (Bachelor of Physiotherapy)
BSc CCT (Bachelor of Critical Care Technology)
BSc PT (BSc Physiotherapy)
BSc PA (B.Sc Physician Assistant)
BSc OTT (BSc Operation Theatre Technology)
BHA (Bachelor in Hospital Administration)
BSc MM.
Get Success with our GENPAS Preparation Classes
We are sure that IG Career Institute's JENPAS preparation Coaching classes in Kolkata will allow you to finish the JENPAS UG syllabus revision within your expected schedule. There are highly qualified and experienced trainers and teachers to help you in this regard.
JENPAS-UG Preparation Course Fees in Kolkata
Check out our JENPAS preparation course fees in Kolkata, India. We offer the best valuable lessons to students at the most affordable cost in India.
Paper-I (Physics, Chemistry, and Biology)
Physics
2 days a week (Duration of each class – 2 hours)
---
Chemistry
2 days a week (Duration of each class – 2 hours)
---
Biology
2 days a week (Duration of each class – 2 hours)
---
Paper-II (Mathematics)
Mathematics
2 days a week (Duration of each class – 2 hours)
---