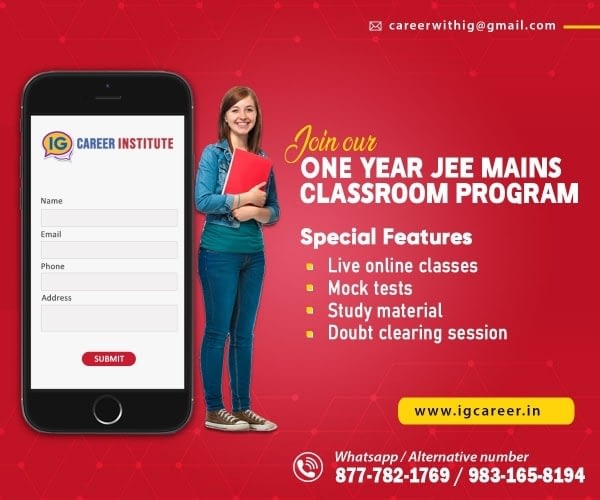 Enjoy your career as an Engineer
Join Online JEE Coaching Facility in Kolkata
With IG Career Institute, anyone can join the best online JEE coaching facility in Kolkata. We have prepared these courses especially for average students who are trying to find their self-confidence and face the JEE test, courageously.
Why Select US for JEE Test Preparation
Extremely Professional Trainers
Apart from being highly qualified teachers, our trainers in Kolkata are extremely professional in their approach. They are dedicated and sincere in giving opportunities to every student so that they can learn and get full confidence.
Fees are Lowest in India
IG provided NEET preparation course fees are the lowest in entire India. Anyone can compare them with other similar institutes and find the differences. But, we maintain the highest standards of training and teaching.
Online Learning Facility
The reason to provide this excellent online learning facility is to reach every corner in India. There are many needy students who don't have the privileges to join JEE preparation classes. We need to make sure that every student in India deserves to get trained and make an exceptionally good result in the test.
Spoken English Course, Free
Apart from preparing students for the NEET test, we also make them ready for their future careers paths. Thus, we provide spoken English courses to all students for free. It not just only helps them in their training process, but also in their future ventures that they were always dreamt of.
JEE Main Preparation Course Fees
JEE Main for Class IX to XII
Twice a week class for Physics, Chemistry, and Math, each;
Get 12 mock tests per year on each subject;
JEE Main for Class IX to XII
Thrice a week classes for Physics Chemistry, and Math, each;
Gain 24 Mock tests on each subject per year;
Course Fees for JEE Advanced
Special Preparation Classes for JEE (Main and Advanced) to CBSE, ICSE, ISC, IB, and IGCSE Students in india
IG Career Institute also conducts special preparation classes for JEE (Main and Advanced) in Kolkata, India to different educational boards and authorities. These boards are:-
CBSE (Central Board of Secondary Education)
ICSE (Indian Certificate of Secondary Education)
ISC (Indian School Certificate)
IGCSE (International General Certificate of Secondary Education)
IB (International Baccalaureate)
Neet courses are administered to the pupils from class VI to XII. These involve subjects of Physics, Chemistry, Mathematics, and Biology. There are also separate Spoken English classes if anyone wishes to join.
Charges for JEE Courses for VI, VII, IX, X, XI, and XII
JEE Training for CBSE (Central Board of Secondary Education) Students
| Class | Subjects | Numbers of Classes in a Week | Course Fees (Per Month) |
| --- | --- | --- | --- |
| VI to VII | Physics / Chemistry / Biology / Mathematics | 2 Days Classes in a Week | ₹1000/- |
| IX to XII | Physics / Chemistry / Biology / Mathematics | 2 Days Classes in a Week | ₹1200/- |
JEE Courses for ICSE (Indian Certificate of Secondary Education) Students
| Class | Subjects | Numbers of Classes in a Week | Course Fees (Per Month) |
| --- | --- | --- | --- |
| VI to VII | Physics / Chemistry / Biology / Mathematics | 2 Days Classes in a Week | ₹1000/- |
| IX to X | Physics / Chemistry / Biology / Mathematics | 2 Days Classes in a Week | ₹1200/- |
JEE Classes for ISC (Indian School Certificate) Students
| Class | Subjects | Numbers of Classes in a Week | Course Fees (Per Month) |
| --- | --- | --- | --- |
| XI to XII | Physics / Chemistry / Biology / Mathematics | 2 Days Classes in a Week | ₹1200/- |
JEE Classes for IGCSE (International General Certificate of Secondary Education), and IB (International Baccalaureate) Students
| Class | Subjects | Numbers of Classes in a Week | Course Fees (Per Month) |
| --- | --- | --- | --- |
| VI to XII | Physics / Chemistry / Biology / Mathematics | 2 Days Classes in a Week | ₹2000/- |