Medical students and aspirants need to appear in the National Eligibility Entrance Test (NEET) that is held all over India. Its because if they wish to study medical science in any of India's best medical colleges and be a doctor.
What is NEET-UG?
NEET-UG is for undergraduate students who want to appear in the examination. If you are one of them then you must be prepared to face the test and get a good score and ranking to fulfill your dream to be a doctor.
Many students prepare for their own and appear in the NEET test. It's a good idea to make the preparation all by yourself if you are confident about it. Some join NEET preparation coaching classes to learn to get a decent score.
But, not all students can afford to join courses for NEET. This article is especially for those who wish to do it on their own. It may be you or a group of students like you. We will help you to make preparations for your upcoming NEET examination.
Subjects of NEET Test
First, let us know about the subjects that we will be focusing on. These are Physics, Chemistry, and Biology. In Biology, there are two subjects included – Botany and Zoology.
Syllabuses of NEET
As you know about the subjects, now let us go to the syllabus of the NEET-UG exam. You need to remember that the syllabuses from Class XI and XII would be followed in the test. Hence, students need to focus on these below-mentioned syllabuses for the preparations.
NCERT Curriculam on NEET
NEET essentially comprises the syllabuses from the NCERT module. Considerable chunks of questions are sourced from class XI and XII NCERT. Hence, students will be advised to follow their previously studied subjects to prepare for the NEET examination.
NEET Syllabus from Class XI, Physics
Laws of Motion
Physical-world and measurement
Work, Energy, and Power
Kinematics
Gravitation
Thermodynamics
The motion of systems of particles and rigid body
Oscillations and wave
Properties of Bulk Matter
The behavior of Perfect Gas and Kinetic theory
NEET Syllabus from Class XI, Chemistry
Basic concepts of Chemistry
Structure of atoms
Classification of Elements and Periodicity in Properties
Thermodynamics
States of Matter: Gases and liquids
Molecular structure and Chemical Bonding
Equilibrium
Organic Chemistry – Basic principles and techniques
Environmental chemistry
Hydrocarbons
s-Block elements (Alkali and Alkaline earth metals)
Some p-Block elements
Redox reactions
Hydrogen
NEET Syllabus from Class XI, Biology
Diversity in our Living World
Structural organization about Plants and Animals
Cell Structures and their Function
Human physiology
Plant Physiology
NEET Syllabus from Class XII, Physics
Current Electricity
Electro statistics
Electromagnetic induction and alternating currents
Magnetic effects of Current and Magnetism
Electromagnetic waves
Dual Nature of Matter and Radiation
Atoms and Nuclei
Optics
Electronic Devices
NEET Syllabus from Class XII, Chemistry
Solid-state
Chemical Kinetics
General principles and Processes of Isolation of Elements
Solutions
Coordination compounds
Electrochemistry
P Block elements
D and F block elements
Surface Chemistry
Alcohols, Phenols, and Ethers
Haloalkanes and Haloarenes
Organic compounds that contain Nitrogen
Aldehydes, Ketones and Carboxylic Acids
Biomolecules, Polymers, and Chemistry in everyday life
NEET Syllabus from Class XII, Biology
Genetics and Evolution
Reproduction
Biology and Human welfare
Ecology and environment
Biotechnology and its applications
Question Pattern
Marks of NEET
There will be a total of 180 Multiple choice questions and you will get 4 marks for each right answer. If you incorrectly answer questions, then 1 mark will be deducted for each mistake. It is one of the most arduous examinations in the country. Hence, don't take it lightly.
Some Useful Tips for NEET Preparation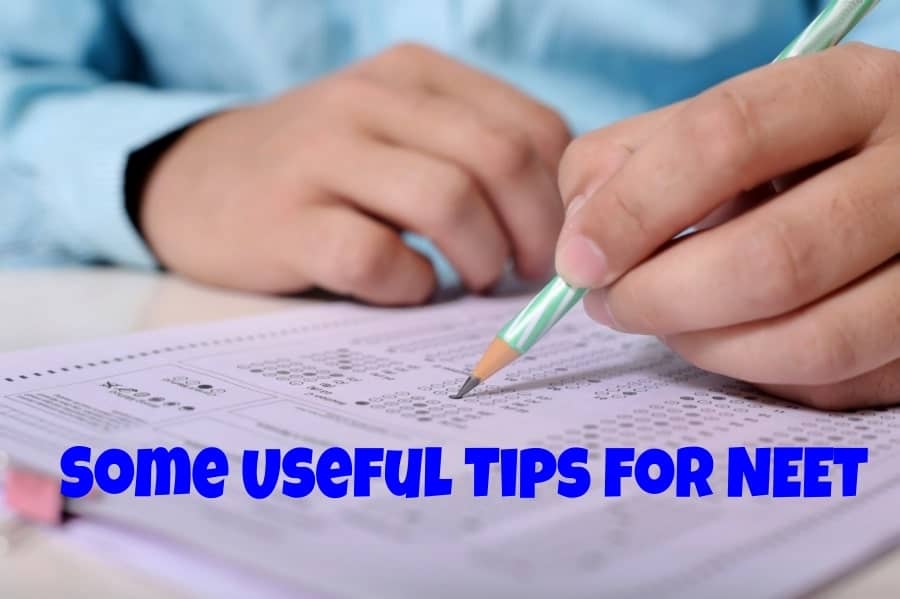 Make a Timetable to study each Subject
At first, you need to create a timetable to study all subjects, every single day. You must follow it 3-4 months before the exam. Give at least 2 hours to study each subject (Biology, Physics, and Chemistry). You will spend 6 hours studying all subjects.
Include a Mock Test or Practice
After completing your study, you should try mock tests to prepare for good. Give this session at least one and half hours, every day. You can prepare the mock test by yourself or by the previous year's question papers and practice. Also, you can find practice mock sets for NEET in your nearest bookstores.
Make Revisions
At the end of the day, you need to revise your study. Try to make revisions to the subjects that you have studied all day long. This will churn your knowledge in your subjects, deeply. You should also spend one and half hours minimum on the revisions. You can solve the questions in a much faster and more polished way than before.
Also, Take some Notes
You should also take some important notes while studying. It is useful especially when you are during the last phase of your preparation routine. It will clear the concepts of your subjects and syllabuses that your need to strengthen.
Why must have a Timetable?
A timetable will ensure that you give importance and time to each of your subjects, properly. It will also help you in selecting your favorite subject that you are very comfortable in.
If you want to optimize your schedule, the timetable will become your best friend. You won't feel bored while learning your subjects.
A well-maintained timetable can create an instinctive habit and cadence for your study. With it, you will be able to prioritize and maximize the things that are most important for your success.
More Tips to Prepare for NEET Exam
You must give proper importance to all your subjects as it will give you good rank.
Have a good look at the tough topics (which you consider as tough). Why can't you make them your area of strength rather than your weakness?
Don't lose your hope and confidence. Take a break if you are feeling too stressed after studying. Take a walk for five minutes.
If you are doing mistakes, then learn from them. They will help you to avoid repeating the same thing.
Don't get too overconfident. It may lead you to ignore studying the topics that you consider easy. Read everything delicately and attentively.